If you are a baby boomer and grew up either on the North Side or in one of the North Suburbs of Chicago, chances are that you knew or had gone to Fanny's restaurant. Fanny Bianucci Lazzar had her landmark restaurant at 1601 Simpson Street in Evanston, Illinois from 1946 until 1987. She was a diminutive but effervescent lady, and she or her husband Ray greeted you at the door. The foyer was crowded with photos of famous people who had dined at the restaurant and awards for both the salad dressing and meat sauce from the International Epicurian Society of France. I loved going there as a kid, and remember Fanny going into the dining room with a big bowl of spaghetti to offer seconds to anyone. I remember going there for my birthday and getting coconut cake with a candle and being embarrassed when the servers would gather around to sing Happy Birthday.
Fanny died in 1990, but her son John sold her spaghetti sauce frozen or in jars from World Wide Food Products in Skokie. Despite many requests, he had kept the spaghetti sauce recipe secret, saying it was worth "millions."
I do know now that John Bianucci died several years ago. The fannysofevanston.com website is down, the phone number (847-679-4438) is not in service, and Sunset Foods has no (after I purchased 1) jars left of Fanny's meat sauce. I haven't seen the frozen packet version of the meat sauce (or the frozen spaghetti dinner packet) in years. I called the phone on the label (847-791-9660) and no one answered, so I guess World Wide Food Prod. Ltd. is out of business. So, John's heirs, if you are still with us, can you give Fanny's spaghetti recipe please?
The label of the meat sauce jar:
A photo of the dining room: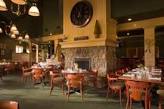 It is worth noting that Fanny employed black wait staff and cooks at a time when this was very unusual. The restaurant was not on a fancy street in Evanston, but people flocked there.
The story below is from Old Lost Recipes, a web site that does not seem to be currently maintained, which is a crying shame! Monica Kass Rogers, where are you?
Update (7/21/19 Monica is still blogging, but at a new site: http://lostrecipesfound.com)
http://old.lostrecipesfound.com/recipe/fannys-of-evanston-fried-chicken/
From the time it opened in 1946 until it closed in 1987, Fanny's of Evanston was known for its unusual orange juice/pecan/chutney salad dressing, spaghetti with meat sauce, and? This fried chicken. You can still buy the dressing and the meat sauce from the Bianucci family's Worldwide Foods online (www.fannysofevanston.com) Not so, the chicken. But now, you can make the chicken yourself at home! (Thank you, Helen Bianucci!) The recipe has a really-truly "knock-knock" story to it: Upon opening, Fanny (a woman of faith) prayed for a cook. Two days later, Bob Jordan knocked at the restaurant door announcing "The Lord sent me to be your cook." To Fanny's "What-do-you-cook?" query, Jordan answered, "The best fried chicken around!" Hyperbole notwithstanding, we think Jordan's recipe, which he prepared at Fanny's for 25 years, has phenomenal flavor. Really a fricassee, (i.e. not crispy) this rich, fall-off-the-bones rendition has cream in the coating and butter in the dish.
Makes 8 servings
Ingredients
3, 2-lb chickens cut into pieces
1 stick each vegetable shortening and butter
1/4 cup flour,
1 tsp salt
Freshly-ground pepper
2 tsp oregano
1 1/2 cup cream or half-and-half
Instructions
Heat fat in heavy skillet. Mix flour, salt, pepper, and oregano in a bag. Dip chicken pieces in cream and then place in flour bag, shaking to coat. Remove chicken pieces to hot skillet, cover. Turn heat down to simmer and fry slowly for 30 minutes. Uncover. Drain fat, but leave meat juices and crumbly bits. Scrape those to unstick from bottom of pan, but do not discard: Add enough water to just cover bottom of skillet, and mix with the meat juices and bits. Cover skillet again and simmer another 30 minutes.
This ends the reprint from old recipes found.
Now, I made this chicken and clearly there is something missing from the recipe. I remembered Fanny's fried chicken as moist chicken with a wonderful crispy coating, and this recipe delivers a moist well flavored chicken but not a crisp coating. The second stage of adding water to the pan makes a lumpy pan gravy. I'm going to have to tweak this recipe to preserve a crunch to the skin, and improve the pan gravy. I even question whether or not a pan gravy should be included, as my memory of the Fanny fried chicken does not register any gravy at all, just crispy and wonderful fried chicken.
What follows now is my attempt to recreate Fanny's meat sauce. I would love for people to try this and see if it comes close to their memories. Here is a photo of the Fanny Meat Sauce jar label showing the ingredients:
SDR Clone of Fanny's of Evanston Meat Sauce
4 servings
Ingredients:
3 14.5 ounce cans diced tomatoes
1.5 pounds ground beef (ground chuck)
1 6 ounce can tomato paste
1/3 cup diced carrots
1 large sweet onion (Vidalia or Texas 1015, or similar), diced
2 tablespoons unsalted butter
1 to 2 cloves garlic, minced
2 tablespoons dried oregano
4 to 6 tablespoons unsalted butter
salt and freshly ground black pepper to taste
Perparation:
Place the ground beef in a heavy skillet and break up into small pieces. Sauté until brown. Drain the fat from the beef and put aside. Wipe the pan and then saute the diced onion and carrots in 2 tbs of butter until the onions are translucent and soft. Add the 3 cans of diced tomatoes with their juice to the pan. Add as much tomato paste as you wish, to taste. Simmer for 1 to 2 hours.
Take the sauce and process in a blender (hopefully a Vita-mix or Blentec) to get a very smooth puree. Return the sauce to the pan and add the beef. Finish the sauce with 2-4 tbs of butter whisked into the sauce. If sweet onions were not used, one might need to add some sugar to balance the acidity of the tomatoes, but as I made it, the sauce is slightly sweet without the addition of sugar.
Serve over spaghetti or other pasta and finish with grated Parmesan cheese.
According to other sources, the beef component is 48% of the sauce. I don't know what the chicken represents on the label, could it be chicken stock? Could it be chicken liver? Also, the label says contains milk. Could this be in the form of cream added to the sauce, or milk to thin the sauce? Butter did play a large roll in Fanny's sauce and she got all kinds of plaques on the wall of the restaurant for her use of butter in her cooking. Please try to make this clone and see if it is close to your memory of the Fanny meat sauce, or do what I'm planning, a direct comparison with the bottled sauce. In any event, it is unlikely to find a commercial product to replace Fanny's wonderful sauce, and I am afraid the original recipe is lost forever!